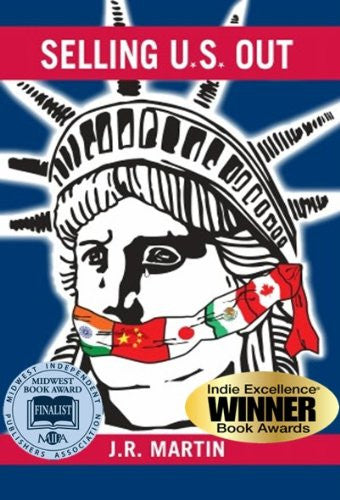 SELLING U.S. OUT
$ 15.00
Selling U.S. Out is an award-winning non-partisan examination of the trade and economic policies that brought about the current economic crisis. It is the recipient of the following awards -  
WINNER - 2013 INDIE EXCELLENCE AWARDS
FINALIST - 2012 MIDWEST INDEPENDENT PUBLISHERS BOOK AWARD
FINALIST - 2013 NEXT GENERATION INDIE BOOK AWARDS
FINALIST - 2013 FOREWORD REVIEWS BOOK OF THE YEAR AWARD
Selling U.S. Out
 is also receiving five star reviews from readers across America.  Here are some recent reviews:                                                                                                                                                                                        
"Selling U.S. Out" is an extremely well-written book that exposes  the facts surrounding the United States' international trade relations. J.R. Martin provides an in-depth analysis of our country's past and present trade policies as well as his recommendations for the future. He unravels all the mysteries of our faltering performance in a way the media has missed. This book should be mandatory reading for all of our Federal officials, and it is a "must read" for every concerned citizen.  
Dr. T. J. O'Hara - Strategic Consultant, Author, Washington Times Columnist
J. R. Martin has written an important book. He is a modern day Thomas Paine urging Americans to action. The solid research which is the basis of the book provides readers with facts rarely gathered in one publication or so clearly presented. The author makes a powerful case for a renewal of the principles which led  to the unique political and social experiment, the United States of America. He is hopeful that, if informed, his fellow citizens will become patriots in the rebuilding of America.  As a senior citizen, I was touched by the inclusion of his son's quote by Dr. Seuss. It reminded me that the solutions to America's challenges must be intergenerational. Each citizen, of any age, can play a role in recreating the American Dream.
Johannes Dahle - Retired University Administrator